Achieve Natural Health & Wellness with Acupuncture
South Chicago's Best Acupuncture Treatments
Let Your Body Do the Work
Acupuncture is an ancient medicine that stimulates your body's natural healing abilities to relieve chronic pain, stress, anxiety, and help with weight loss, along with many other benefits. At Hyde Park Chiropractic Wellness Center in South Chicago, we offer acupuncture treatments that are safe, effective, and efficient. Contact us today to get started!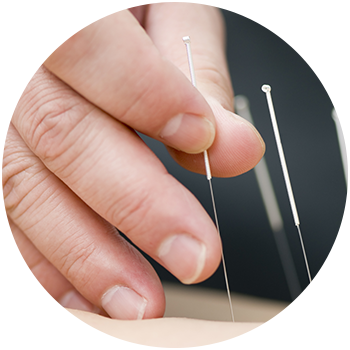 CONDITIONS ACUPUNCTURE CAN TREAT:
Infertility
Depression
Addiction
Pain relief
Headache and migraine relief
Injury recovery
Neck and back pain relief
Stress management
Anxiety relief
Alleviates sleep disturbances
Relieves muscle tension
Top Rated Local® Acupuncture Treatments In South Chicago
At Hyde Park Chiropractic Wellness Center in South Chicago, we believe in improving and maintaining your health and wellness using a natural approach. Acupuncture is an effective treatment for addressing numerous conditions and pain complaints that can negatively affect your physical, emotional, and mental well-being. Acupuncture treatments are based on traditional healing practices rooted in Chinese medicine, which encourage the body's natural healing abilities and improve function. If you would like to learn more about this natural approach to healing, or would like to arrange an appointment, please reach out to our wellness center in Hyde Park to get started.
What Is Acupuncture?
Many people are afraid of acupuncture because there are needles involved, and since most of us were scarred as children from the dozens of shots we had to get, we have an inherent dislike for needles. However, the needles acupuncture treatments use are nowhere near the size of hypodermic needles used for shots, nor do they hurt.
Acupuncture instead involves the use of tiny needles which are inserted into the skin at specific points on the body that correlate to organs and functions of the body. The goal of inserting the small acupuncture needles into these precise acupuncture points is to encourage the body's natural flow of energy through energy channels called meridians.
Acupuncture targets these energy points on the body with the whole goal to remove energy blockages and balance out your energy flow. This is what helps to restore your emotional, mental, and physical well-being. As the energy patterns are opened, and energy production is restored, acupuncture helps improve organ function in order to correct imbalances. Needling acupoints encourage the nervous system to release the body's natural chemicals into the brain, spinal cord, nerves, and muscles, which affect pain and stimulate healing. The feeling acupuncture needles evoke is usually a slight tingly sensation, which is usually a sign that your acupuncture treatment is working.
Here at Hyde Park Chiropractic Wellness Center in South Chicago, our trained acupuncturists are experienced and knowledgeable. Their goal is to improve your health and well-being through acupuncture therapy, which is an all-natural alternative to prescription drugs. Below, we'll dive just a bit more in-depth into some of the many wonderful benefits of acupuncture. Contact us for your acupuncture treatment today!
Benefits of Acupuncture
Along with relieving discomfort and improving function, acupuncture is an effective treatment for a number of conditions, injuries, and pain complaints.
Pain relief. Many of us suffer from pain, sometimes chronically. When you suffer from chronic pain, your lifestyle is affected, and perhaps even your mental well-being. After all, if you can't do the things in life you love doing, it can be very depressing. Acupuncture for chronic pain works as an all-natural pain killer, increasing blood flow and kicking into high gear your body's natural healing powers.
Anxiety relief. Acupuncture for anxiety works to release endorphins, as well as serotonin, which is the feel good chemical in your brain that involves mood. When these chemicals are released, you naturally feel better, which helps to push your worries and anxiety to the wayside.
Headache and migraine relief. Acupuncture stimulates different systems of the body. In the case of acupuncture for headaches and migraine relief, the needles stimulate your body to release hormones, such as endorphins, that trigger your immune and circulatory system, activating the pathways in the brain, which helps to relieve headaches and migraines.
Experience A Healthier You!
Are you ready to begin your path to a healthier you? Acupuncture treatments offer a safe and effective way to relieve pain and improve your physical, emotional, and mental wellness. Whether you would like to experience relief from pain, you want to manage stress in a healthy way, or you want to heal from an injury, acupuncture may be an ideal solution for you. Reach out to your Top Rated Local® wellness center in Hyde Park to learn more about this therapy. We proudly offer our acupuncture and wellness services to residents throughout South Chicago. You can schedule an appointment by phone or arrange an appointment online. We look forward to helping you on your journey to health and wellness.
Hyde Park Chiropractic Wellness Center in South Chicago is passionate about helping people live life to their fullest. In addition to acupuncture, we offer a wide variety of services to contribute to that goal, including, including chiropractic care, massage therapy, weight loss, and hypnotherapy. Experience the benefits of natural healing and whole-body wellness today.